Dear Parents, Carers, Grandparents and Guardians,
We are getting a lot of fabulous feedback from you all on Mix-it Up Day. This is a trial that we are all very keen to support. The children are excited about taking part and there are already some very creative ideas out there! If this reinforces the work already done about challenging bullying and raises money in the process, then what could be better?
This excitement has quite naturally heightened interest in the head teacher's vision for the school and the potential for developing the field. The intention is to run some sessions in the school hall, and at the EGM in two weeks, to share ideas for the development. Mrs Paterson is keen, in light of the attention about Mix-it Up Day, to share some of this thinking. Although we are in the early stages of planning the development, we have some ideas we are ready to share.
Below is an artist's impression of the broad concept. The key facets are:
• A path or trim trail where children can exercise/play.
• Play-area equipment. This equipment would be spread along the path, rather than in one line as shown in the picture. This would encourage use across the pathway and reduce crowding around any one area.
• Erecting a 90-metre fence to secure the area between the school and Launton playing fields - this currently has many holes in the hedge which mean our children's safety could be at risk.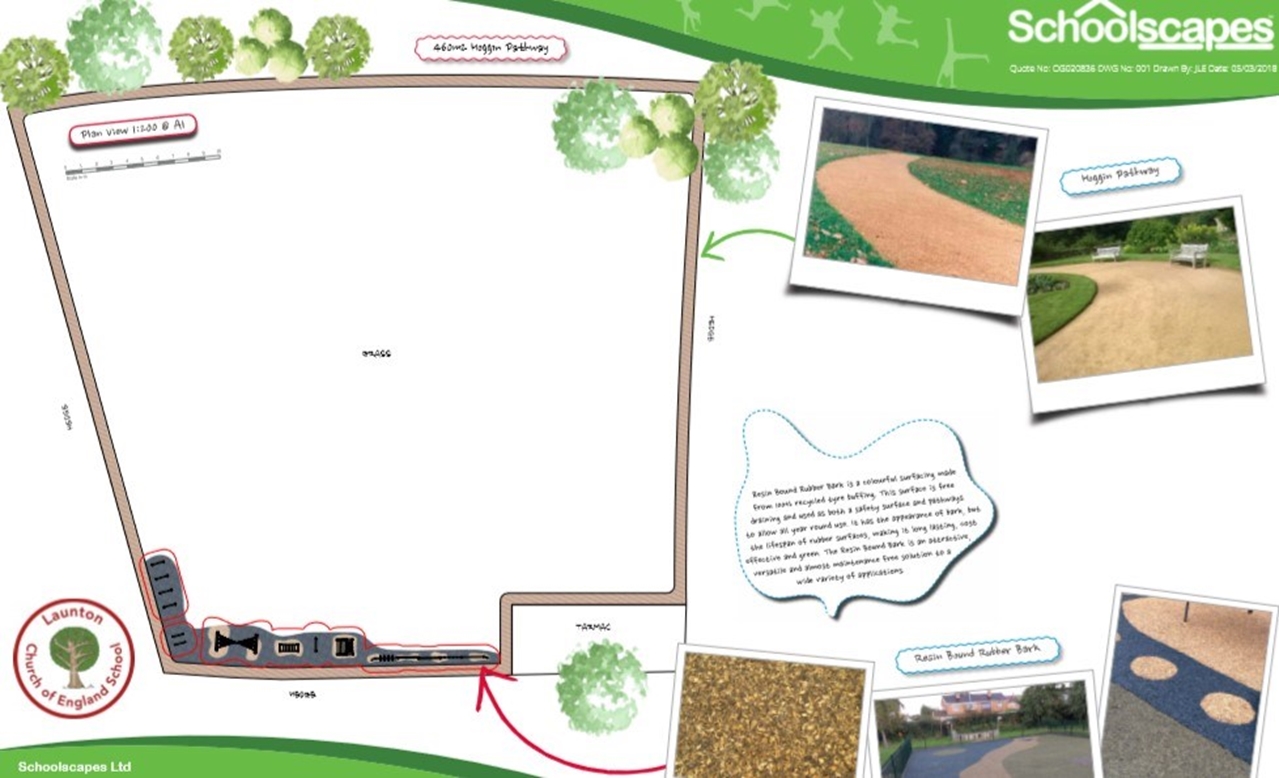 We are looking at ways of generating more funds:
• We have a team applying for grants. They have already applied for two grants, and there are more out there.
• By registering FOLS as a charity, your donations will be increased by 25% for every pound raised.
• We have provisionally agreed support from two major banks, both of whom will support us in terms of money and help at events.
• Whilst FOLS has increased its numbers, we are keen to engage you all in driving this agenda for the children.
Mrs Paterson is currently in talks with the council to confirm that they are happy for us to go ahead with this development. Should we need your help and support to ensure we get the 'go-ahead' - to reduce overcrowding in the playground and give the children outdoor equipment to get them moving more - we will certainly reach out to you.
Finally, please feel free to share your thoughts at the after-school sessions (details will follow in the coming weeks). I'm sure you will all agree that this is a fabulous aspiration for us all to work towards and if nothing else what our children deserve.
Interim Chair Friends of Launton School