Physical Education (PE)
A high-quality physical education curriculum inspires all pupils to succeed and excel in competitive sport and other physically-demanding activities. It should provide opportunities for pupils to become physically confident in a way which supports their health and fitness. Opportunities to compete in sport and other activities build character and help to embed values such as fairness and respect.
At Launton Primary School, we believe it is paramount to provide opportunity for children to become physically confident to help promote their health, fitness and wellbeing. We intend to deliver high quality PE teaching that will inspire children to succeed in their physical development as well as providing them with skills for life. These skills include being taught how to swim and water safety techniques. We intend to do this in a safe and supportive environment that will provide all children with equal opportunities to thrive in physical education and school sports. Our curriculum will combine the physical skills needed to play sport as well as learning how to collaborate and cooperate with one another as these skills are vital in all areas of life inside and outside of school. We believe that quality PE lessons will set the children up for a healthy and wholesome life.
All key stage 2 children will participate in swimming lessons during Key Stage 2
We will provide inclusive and challenging learning through a range of sporting activities including; fitness activities, invasion games, strike and field games, net and ball games, outdoor adventure, yoga, dance and gymnastics
Over the year, all children will have the opportunity to participate in both intra and inter school competitions/festivals
We have implemented 'Launton laps', which is 15 minutes of daily running, for all Key Stage 1 and Key Stage 2 year groups to improve stamina and pace
The long -term plan sets out the PE units which are to be taught throughout the year and ensures that the requirements of the National Curriculum are fully met
Each week, children participate in two PE lessons and are encouraged to join one of our extra-curricular activities; this includes lunch time games provided by the Youth Activators
A coach from Ignite sport teaches PE lessons for Years 3 and 6 and an after-school club to develop gymnastic and dance skills
Each week children participate in an active maths lesson
We have a program for the Year 5 children to become Sports Leaders for the school, developing into sporting role models for the younger children, assisting with lunch-time clubs, our annual sports day and other sporting activities
Curriculum Implementation Plans
Statutory Framework for Early Years Foundation Stage (Updated 2021)
Physical activity is vital in children's all-round development, enabling them to pursue happy, healthy and active lives7. Gross and fine motor experiences develop incrementally throughout early childhood, starting with sensory explorations and the development of a child's strength, co ordination and positional awareness through tummy time, crawling and play movement with both objects and adults. By creating games and providing opportunities for play both indoors and outdoors, adults can support children to develop their core strength, stability, balance, spatial awareness, co-ordination and agility. Gross motor skills provide the foundation for developing healthy bodies and social and emotional well-being. Fine motor control and precision helps with hand-eye co-ordination, which is later linked to early literacy. Repeated and varied opportunities to explore and play with small world activities, puzzles, arts and crafts and the practice of using small tools, with feedback and support from adults, allow children to develop proficiency, control and confidence.
Physical Development
Gross Motor Skills
Children at the expected level of development will:
Negotiate space and obstacles safely, with consideration for themselves and
others;
Demonstrate strength, balance and coordination when playing;
Move energetically, such as running, jumping, dancing, hopping, skipping and climbing.

Fine Motor Skills
Children at the expected level of development will:
Hold a pencil effectively in preparation for fluent writing – using the tripod grip
in almost all cases;
Use a range of small tools, including scissors, paint brushes and cutlery;
Begin to show accuracy and care when drawing.
During term 1, the children have been having lots of fun during a Thursday lunchtime with Hannah from the Youth Activators. They have been learning lots of different active games that they have continued to play at break time and during PE warm ups.
We held our annual School Cross Country Competition today, with children competing in classes on a course on the field throughout the day. Each year since daily running was introduced through Launton Laps, the children's speed and stamina has improved and Mrs Kirkwood (from the North Oxfordshire School Sports Partnership), who supported us in holding the event was very impressed with their running.
A flavour of the Tokyo Games came to the school field on Friday:
Layla shared, "I liked doing the speed jump in the hall. I felt good getting my medals." Tabitha said, "I felt proud when I got my medal." "I won a gold medal and I felt happy," stated Millie. "I got some stickers when it was sports day," said Elsie. Miles was proud and said, "I got a sticker because I won a couple of races."
Sports day Determination, self-belief and passion were demonstrated throughout the day on Tuesday as all the pupils competed in our final instalment of sports day events. Pupils enthusiastically participated in events including, a tricky obstacle course, sack races and skipping races.
Rowan Class Reporter "In the egg and spoon race, my egg didn't even come off." reports Sophia. "I only fell over once in the sack race." said Evelyn very proudly. " Football dribbling was the best bit." said Toby. "My hat came off only once: we were wearing them because it was sunny." explained Tabitha.
All the children in key stage two have been working with a cricket coach. "Charlotte from All Stars will be teaching us cricket this term and so far it has been fun. We aim to be cricket pro's by the end of this term. (Sophia) "We had fun with Charlotte. She is going to be teaching us cricket. Today we practised our catching skills and by the end of term we will know how to play cricket properly." (Leah)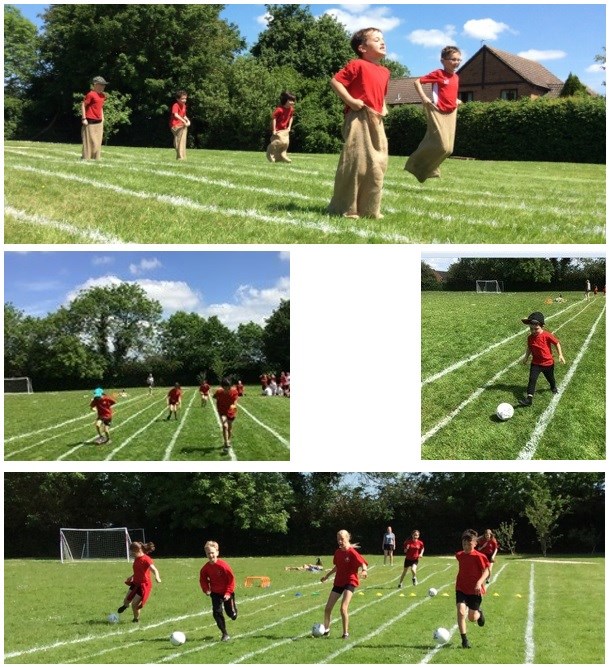 The children's running seems to be going from strength to strength, with Launton Laps such an integral part of the children's daily routine. Recently, all the children took part in a Cooper school cluster cross country competition and the results have been announced. Amazing results: well done to all our athletes! e North Oxfordshire partnership final also saw our Yr 3/4 boys and Yr 5/6 girls teams awarded first place in North Oxfordshire. Well done to these runners who will now go onto to represent the district in the Oxfordshire School Games final.
We enjoyed perfect conditions for today's cross-country competition. Everyone showed excellent determination and resilience and the pupils in years 1-6 who took part were amazing. The results are being submitted for an inter-school competition so we will update you shortly with the outcome!
Alongside cross country, our KS2 pupils have been taking part in a crossbar challenge, and foot golf challenge. Some excellent football skills were demonstrated. Again, we will update you shortly with the results.
Following on from the announcement in the newsletter last week about our individual winners from the quadkids athletics competition, we are delighted to inform you that the Yr 5/6 pupils came first overall in our cluster event! This means that their results will go forward to a partnership final in the next couple of weeks. We will keep you updated on those results. Well done to all our year 5 and 6 pupils on this fantastic
All year 5 and 6 took part in a virtual athletics competition last term against schools from across our cluster. Nearly 200 pupils took part, competing in 4 events. We were really impressed with the effort of all our pupils with the most notable achievements as follows.
1st place Archie (Year 6)
2nd place Harry (Year 4)
1st place Erin (year 6)
2nd place Lily (year 5)
3rd place Immy (year 6)
To have been awarded 5 out of the 6 top individual places is an excellent achievement so well done to our athletes!
All pupils from year 1-6 took part in our intra school cross country competition this week. The pupils showed excellent determination to complete the long distance run. It was excellent to see them all trying their best!
A big well done to everyone, notably those who came in the top 3 for their age group as follows.
Year 1/2 - 1st Spencer, 2nd Noah H and 3rd Sebastian
Year 3 - 1st Alfie, 2nd Austin and 3rd Elliot
Year 3/4 results - 1st George Varney, 2nd Alfie, 3rd Monty
Year 5/6 - 1st Henrik, 2nd George G, 3rd Archie
The qualifying children from key stage 2 competed in the cross country competition at The Bicester School. The children were fantastic ambassadors for the school and showed respect and good sportsmanship throughout. Each child put in their best efforts and all ran an excellent race.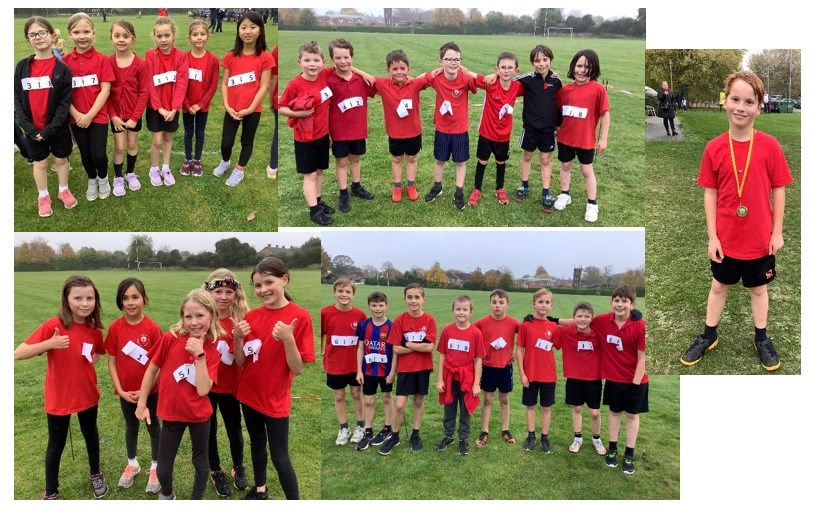 Today, Mrs Kirkwood from The Cooper School came to help with our school throwing competition. All classes took part and threw some impressive distances. The year 5 children did a fantastic job of helping Mrs Kirkwood to ensure that each throw was measured accurately. Well done everyone!
The children took part in orienteering to raise money for Children in Need. The children needed to find the 10 different Pudsey bears hidden around the playground and field then use the stampers to correctly stamp the right Pudsey on their record cards. The children really enjoyed finding out how each Pudsey was dressed!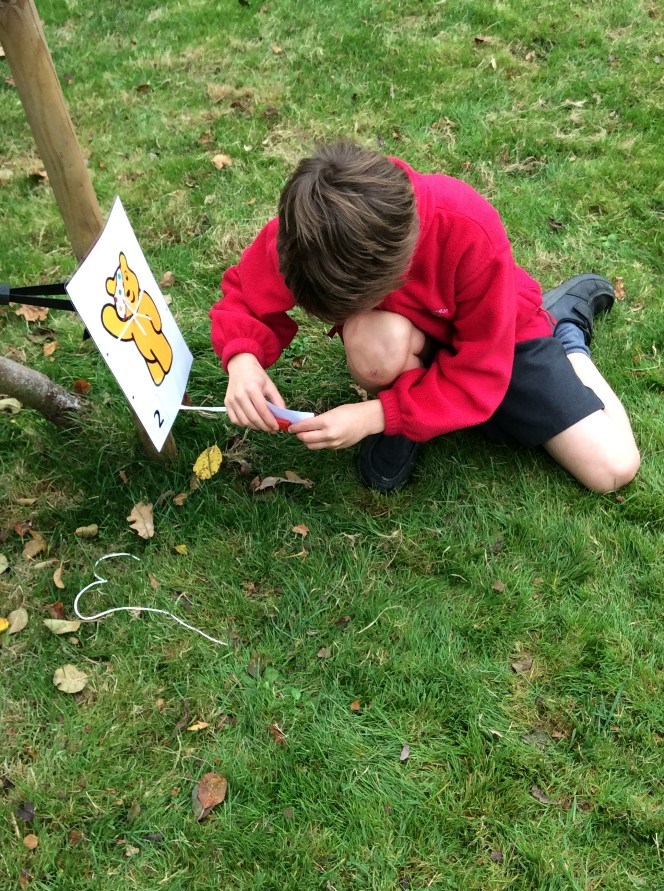 Term 3's sports clubs have resumed this week. The children are really enjoying being active and learning lots of new skills. The netball/basketball club on a Friday have been practising their shooting skills with great accuracy.
As part of National School Sports Week the children have had the opportunity to take part in an introduction to golf lesson. Andy from Kirtlington golf club came on Monday to get the children excited about golf. The children had great fun learning how to hold the clubs properly and playing some fantastic accuracy games.